There are many ways you can help Blue Ribbon Equine Rescue!
Donations – One hundred percent of your donations are used to care for our rescue horses. We are always in need of funds to offset the cost of food, bedding, medication, and farrier services for our horses. We are a non-profit organization so your donations are tax deductible. We are very limited on the number of horses we can take in due to the expenses we incur while ensuring they're properly taken care of. All funds received will be directed to their care and the more donations we receive, the more horses we can save!
Sponsor a Horse – For a minimum donation of $250, you can pick a horse you would like to help. Just note what horse you want to sponsor in your PayPal donation as well as contact information, and you will receive updates!
AmazonSmile – You shop, Amazon gives. For more info, go to the About Amazon Smile page on Amazon's website.
Buy a Book – Black Mare Books donates a share of the proceeds from sales of Cheval Bayard, available at your favorite e-tailer.
We Rescue Cats Too – We are always in need of bagged cat food for our 40+ feline residents. All of them are spayed/neutered since we know there's plenty of cats to go around the world.
Supplies – Bagged Shavings, Hay, Equine Senior, and pellet grain (One and Only or Purina One). If you have something you think we may need or could use, just give us a call!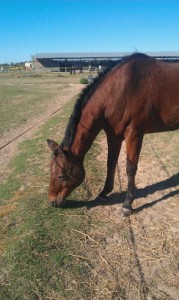 Beau was surrendered to Blue Ribbon Equine Rescue and was suffering from navicular disease. It was very painful for him to walk and, in most cases, he would have been euthanized. Instead, Blue Ribbon Equine Rescue gave Beau a life-saving surgery so he could finally walk without pain. After he recovered, he was adopted by a lovely person and is now living his dream life. This is an example of where your donations go! We cannot continue to save lives without these precious funds.
Be a hero, make a donation!